VEER© into the future of nicotine.
CRAFTED IN THE USA FROM (USP) STANDARD GRADE NICOTINE PH7, NOT DERIVED FROM TOBACCO, INFUSED WITH ALL NATURAL FLAVORS FOR THE RICHEST EXPERIENCE EVER. VEER INTO THE FUTURE AND EMBRACE AN ALTERNATIVE WITHOUT SACRIFICES.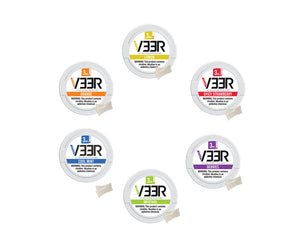 OVER 6 BOLD ALL NATURAL FLAVORS
FAMILIAR YET BOLD FLAVORS CURATED TO SATIATE YOUR CRAVINGS. VEER'S© NO COMPROMISE APPROACH TO NATURAL FLAVORS DEVELOPMENT HAS RESULTED IN THE PERFECT BALANCE BETWEEN NICOTINE'S RUSH AND MOUTH-WATERING DELICIOUSNESS.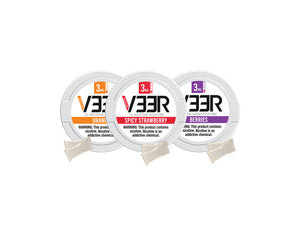 VEER© AWAY FROM TRADITION
FROM EXTRACTION, FORMULATION, AND PACKAGING; EVERY DETAIL OF VEER© HAS BEEN CAREFULLY CURATED FOR END USER. WHERE FOCUS ON FLAVOR DELIVERY THROUGH THE POUCH MEDIUM HAS BEEN OPTIMIZED FOR THE MOST SENSORY EXPERIENCE, SETTING A NEW STANDARD.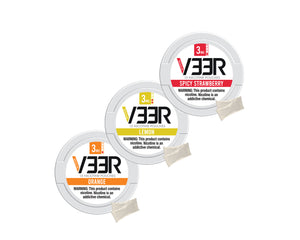 Ø CALORIES - Ø SUGAR - Ø SALT
VEER NIC'S PROPRIETARY BLEND OF NICOTINE NON WOVEN FABRIC POUCHES CONTAINING NO SUGAR OR CALORIES TO GIVE YOU A GUILT FREE, ENERGY INDUCING EXPERIENCE.